​​​​​​​
Grand Prize

at Festival of Dance Veszprém Hungary

2018
Further invitations:
Kuopio Dance Festival, 2019
Dance Festivals in Hungary (Veszprém, Eger, Miskolc, Szeged), 2017-2019
Kassa Divadlo Thália, 2017
Beatrix Simkó's and Zoltán Grecsó's duo puts Orpheus' and Eurydice's mythos in today's conditions, giving a special interpretation to this so many times presented love story. 
Now, Eurydice will be expelled to the hell of our present world. She will be followed by Orpheus, though this world is and remains unfamiliar to him, and suddenly he gets helpless and incapable – he has no vigor to confront the ethos of the 21st century.
He tries to adjust to Eurydice's new lifestyle, but Orpheus is not able to alter himself: his internal rhythm, which is different and slower than that of the beloved woman's, does not match the everyday of his changed lover. The happy, ageless slowness will be uninterpretable in the caducity and quickness of the present.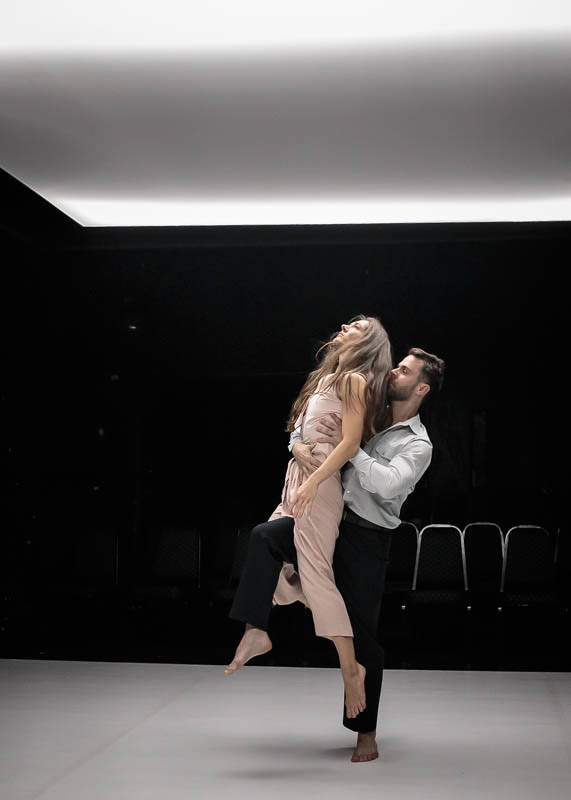 The dancer duo presents the conflict between the world of myths and the realities of the present, but dramatically it offers even more, by demythologizing their heroes themselves. Their inglorious but at the same time hard fight will be about the everyday, the change, and the different world views.
This is an exciting challenge, to code this momentary collision, presenting dissonance and diversity in the language of motions only. Dance allows to show the mainspring of human relationships, the internal forces generating unsolvable conflicts.
The piece has been adopted to different kind of museum and exhibition spaces connecting fine art and contemporary dance through the myth. 
In their duo, Beatrix Simkó and Zoltán Grecsó accumulate their experience of years of working together, using Dániel Dömölky's clear scenography construction, in the atmosphere created by sound designer Ábris Gryllus.
Choreography, dance
Beatrix Simkó, Zoltán Grecsó
Music
Ábris Gryllus
Visual design
Dániel Dömölky
Costum
Petra Földi
Producer 
Pro Progressione
Production manager
Anita Vodál

Special thanks to 
Stefánia Ágoston, Anna  Bagi, Eszter Kálmán, Bálint Nagy, József Pető, Tamás Reich, Borbála Sebők, Ádám Szellő, Anikó Zsalakovics 
Supported by
Ministry of Human Resources, National Cultural Fund, Comedy Theatre Budapest, Workshop Fundation, Sín Production, Spicc Studio, Movein Studio, Eötvös 10, Pro Progressione, PUR E, DNN, deephoto